I currently have a Spin-A-Way Holiday wheel, a Pocket Wheel, and a Bosworth Journey Wheel.
And it cracks me up a little to say that. When I first started looking at the possibilities for a travel wheel, these were my top contenders. And bit by bit they suddenly all became mine!
All three are great travel wheels but that really depends on what type of traveling you are planning to do. I just went through a bit of a nightmarish experience in the Ankara, Turkey airport when they told me that I could not take my Holiday wheel on the plane...
But let me see if I can break it down,
pros and cons in regards to travel wheels:
-------------------------------------------------------
Journey Wheel: McFly
Pros
-Built into a box ready for travel, complete with carrying strap
-Built in Lazy Kate
-Assembly: Quickest - Easy to set up - Ready to Spin in ~2 minutes
-Small foot print on the ground
-Quiet but makes the most noise out of the three
-Scotch tension option
Cons
-Too large to go under the seat on Planes (would fit on most planes, but getting it under the seat would be the problem)
-Smallest Bobbins
-Tallest, which can be a problem for spinning in a vehicle
-Requires some oiling (treadle pivots, and the footman)
-Weight: 14-15 lbs (Heaviest)
-Price: Starting at $1475 ($150 deposit)
-Waiting List: 3+ years (not sure on this, can anyone confirm actual length at this time?)
-------------------------------------------------------
Pocket Wheel: Doc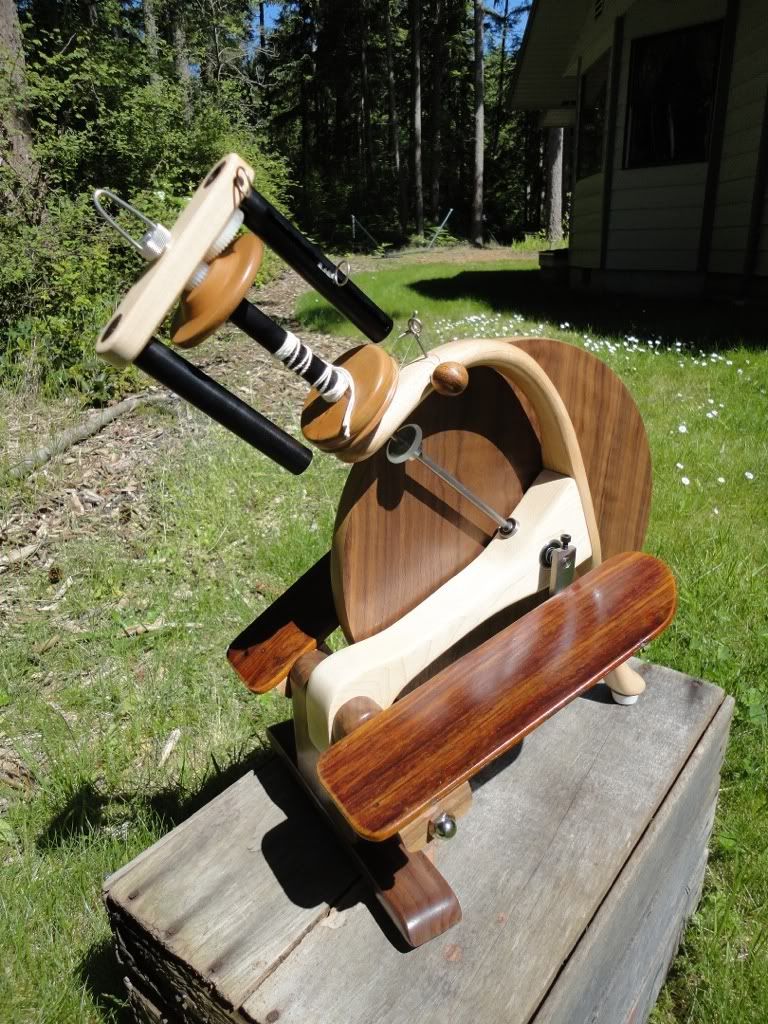 (Photo borrowed from Mr. Pocket)
Pros
-WooLee Winder option!!!
-Carry Handle for when it is assembled
-Treadles are set high for comfortable couch spinning and such!
-Shortest height
-Small foot print on the ground
-Dissembles and fits into a backpack and can go under the seat on a plane
-Infinite Spinning Ratios
-No drive belts or strings!
-Largest bobbin capacity (I think on the WW anyway)
-Very Quiet
-Weight 6 lbs (Lightest!)
-Price: Starting at $550 ($200 deposit)
-Waiting List: 8+ Months
Cons
-Assembly - Longest - can be difficult with Treadle Axle and adjusting settings for proper tension and settings - Ready to Spin in ~10 minutes
-Treadle Axle can be very difficult to insert and remove
-Treadle Axle and Flyer Shaft can cause concerns at security screenings and must be protected from dings/bending
-Requires oiling on the Flyer Shaft under the Bobbin
-Adjusting ratios is approximate and can be a bit fiddly (requires tools)
-------------------------------------------------------
Holiday Wheel: River
Pros
-Assembly - Easy to put together - Ready to Spin in ~5 minutes
-Small foot print on the ground
-Taller than the Pocket but shorter than the Journey
-Dissembles and fits into a backpack and can go under the seat on a plane
-So easy to adjust bobbin tension (with little screw on top of the Spindle Assembly)
-Does not require any oiling!
-Very Queit
-Weight: 8 lbs
-Price: Starting at $675 ($0 deposit)
Cons
-Spindle assembly and flyer could cause concern in security screenings
-Bobbin capacity
-Waiting List: 2+ years
Having made this list on the fly, I'll come back and update as I think of other things to compare.
All in all, in regards to flying with a travel wheel, here is my opinion:
For me, I will not attempt to carry a wheel on board a plane unless I am in a situation where I have a safe alternative for my wheel if they say it can't go. For example, flying to Germany (which I do often) I have someone on the other side of security (not flying) both in my departure and arrival cities. So, if I got to security and they said no, I could just turn around and hand it to someone who would take care of it until I returned or would ship it to me (very carefully!). I have a large hard-sided suitcase that I would be willing to pack my wheel for checked luggage. However, I'm always a bit leery of checking anything important to me since
I know where lost luggage goes...
The Journey Wheel is really not an option for flying, for me. But it would be great for car road trips where I want to bring a wheel along. Between the Pocket and the Holiday, I believe that the Holiday is my favorite choice for traveling. Mainly because of the issues that I have had with putting together and taking apart my Pocket. Currently I have it assembled and can spin at will at home but prefer to not take it apart and therefore it's not a great option for travel, other than sitting it in the car assembled!
I've also had a Kromski Sonata previously, and while it does fold and have a padded carrying bag, it's a rather large wheel and not really a good option for travel, IMHO.
Here's a side by side comparison of the Pocket and Holiday.
So all in all, even though some of these things sound negative, I love all of my wheels!
And I feel like the luckiest person in the world to have all three!!